Update Ludwig II - Walking in the Footsteps of a Fairytale King.
The first major Update for the App Ludwig II - Walking in the Footsteps of a Fairytale King is out now.
We would like to thank the users of the app for their overwhelmingly positive feedback and helpful suggestions. Lots of these ideas have made their way into this Update. It also includes all necessary changes for iOS6 and the iPhone 5. Please find all new Features, Improvements and Bug fixes in detail below: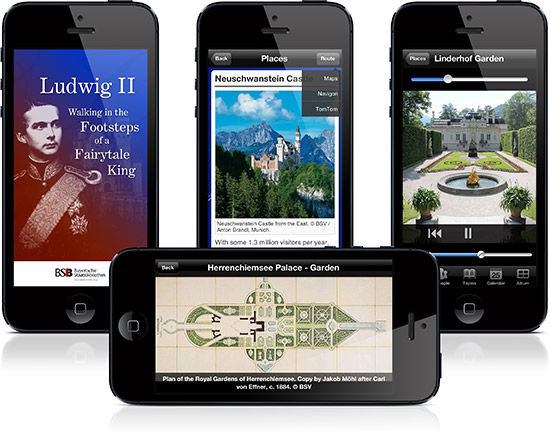 New Features:
You can switch the map now to hybrid and satellite view.
If you are choosing a POI from the list, you can now jump to its position on the map.
Direct Interface to navigation apps. The app can hand over the coordinates of the POIs to the navigation apps Navigon and TomTom as well as to Google Maps (iOS4+5) or Apple Maps (iOS6) for automatic routing and navigation.
In the Video Library you can now easily switch between topics.
If you play a video linked at a POI there is now a "more videos from this expert" link at the end of the video.
Alerts for presents now have sound.
The 3D Miniatures in the album are now flippable and zoomable.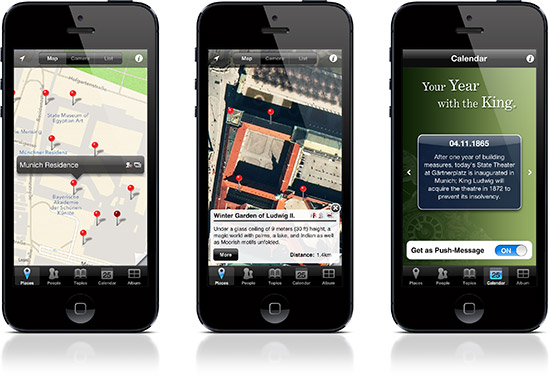 Updates:
Lots of enhancements and updates in the content part of the app.
All screens have been adapted to iPhone 5 display resolution.
All videos are now 16:9. To ensure a perfect fit for all screen sizes we rearranged all photo footage, inserts etc.
Many changes in the code to get the app fully iOS6 compatible.
Images in the picture gallery rotate much more smoothly now.
If you receive a present because you are at a certain POI, the present opens up directly, you not longer need to tap it in the album.
The Augmented Reality Camera view is much more steady and moves more smoothly now.
Everything that takes longer than a second has a spinning wheel now
Appearance of Push Messages have been optimized for iOS5 and iOS6.
Images in the picture gallery have the name of the corresponding POI in the title bar now.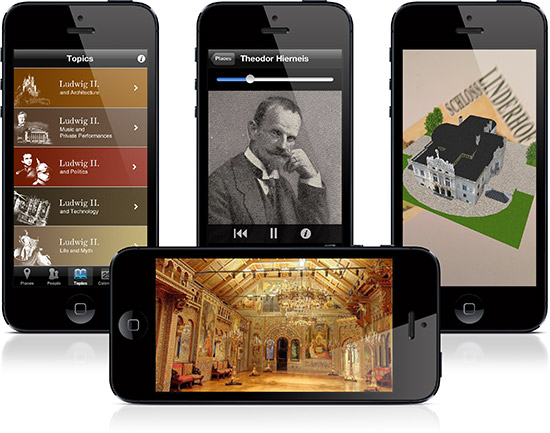 Of course the App still runs on iOS 4 and all iPhones starting with the 3GS. Have fun with the Update and the Ludwig App.

Vodafone Public Brain Award 2012
Other exciting news regarding the King. The App "Ludwig II - Walking in the Footsteps of a Fairytale King" had been awarded 3rd price at the Vodafone Public Brain Award 2012. The Award ceremony had been held in the Event Arena of Olympiahalle Munich where the Bavarian stop of the Vodafone Innovation Tour took place. We congratulate the city of Erlangen for 2nd place and the Bavarian Chamber of Crafts for being the winner of the 1st price.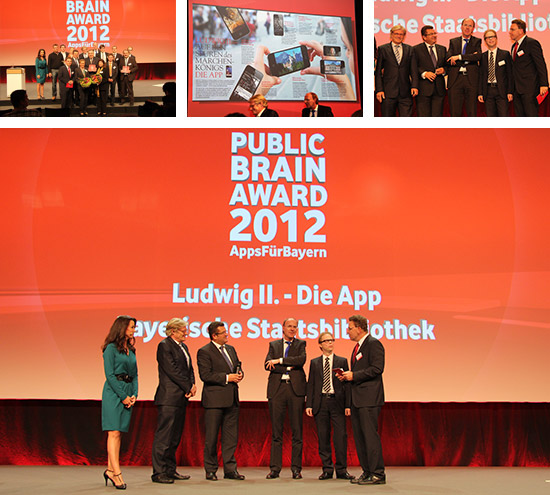 Award ceremony of 2012 Vodafone Public Brain Award, a.o. State Secretary Franz-Josef Pschierer, Director General: Bavarian State Library Dr. Rolf Griebel, Deputy Director General Bavarian State Library Dr. Klaus Ceynowa, Markus Bokowsky CEO Bokowsky + Laymann as well as other award winners and the hosts of the event.
Review Mobile Technology Conference 2012 Frankfurt

For their autumn edition Mobile Technology Conference moved from Mainz to Frankfurt. Of course we'd been amongst the speakers; Markus Bokowsky this time challenged the big picture and gave a talk on the future of mobile.
You can find the slides of this talks incl. all the videos on slideshare: http://de.slideshare.net/BokowskyLaymann/thesen-zur-mobilen-zukunft

In the mobile360 blog you can find a story about the talk (German only)
http://mobile360.de/10-thesen-zur-mobilen-zukunft-zeit-die-mobile-gegenwart-weiterzuentwickeln-44306.html
And there is also a video interview with Markus about Android Tablets, Quantified Self, Second Screen and Augmented Reality:

http://youtu.be/qyScOrDB2yk
And, hey, all of a sudden, the community night evolved to some sort of highlight for us. Ossi Urchs hosted a panel where Achim Himmelreich, Christoph Kolb, Prof. Wolfgang Henseler and our very own Markus Bokowsky talked about why it is so complicated to create a good app. You can watch the hole 45 minute discussion on YouTube, sorry, all in German Language, no subtitles ;-)

http://youtu.be/-s4g07OyiIA
Retina Update Famous Books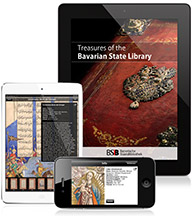 Our very successful Famous Books App recently got an update, that made it fully compatible with the new iPads with Retina display.
So it is even more enjoyable to watch the treasures of the Bavarian State Library at 2048 x 1536 pixels on the new iPad with retina display.
Of course the app still works perfect also on iPad 1 and 2 as well as the new iPad Mini.


Relaunch Rochford Garden Machinery

"Investing into Plusparts has been the best decision we took as a company as it differentiates us from our competitors, and provides our customers with live, accurate information. The system allows us to grow our business without having to increase our staff dramatically, ensuring that we are ready for the future."
Mark Rochford
Marketing Manager,
Rochford Garden Machinery
Rochford Garden Machinery is a big distributor and wholesaler of Garden Machinery in the UK and a longtime customer of ours. Their whole B-2-B web infrastructure is based on our product PlusParts. After being very successful in operation for 7 years their website received a complete relaunch.
As always we benchmarked with the big players in E-Commerce and not with the rest of the GM market to ensure the site stays ahead of the industry.
The layout of the site is now much more spacious and cleaner, images grow to the total width of the page, all former pop-ups had been converted to layers, all
flash got replaced by HTML5 etc. etc. The whole site of course also works on Tablets and you can swipe
your way through it instead of clicking. Videos work on every device, the viewer always receiving the optimal version depending on their browser, device and bandwidth.
The heart of the site is the comprehensive shop for products and spareparts, where you can currently find over 7000 Whole goods, serving 45 brands and more than 1.5 Million spare parts. All powered by PlusParts.
As it is a B-2-B site and you need an account to log-on, we put some screenshots on our facebook page for you to have a look.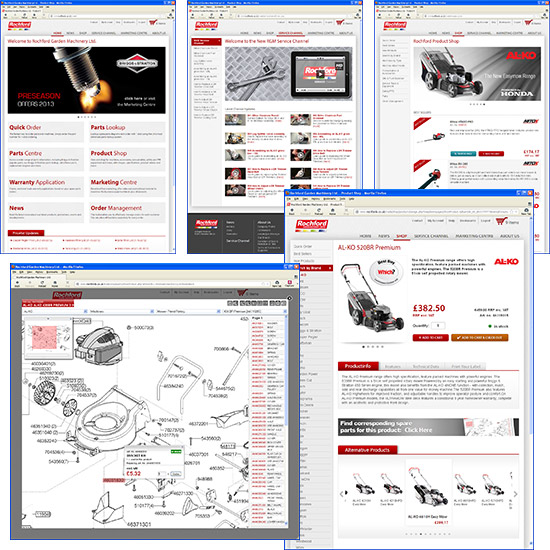 Review Webinale 2012

And of course summer time had been webinale time again. It had been a great conference again, serving the whole mix that makes the web so exciting for all of us. We're already looking forward to the next year.
Here are some impressions from Markus' Talk. He had been also part of the opening together with Vitaly Friedman, Christoph Kolb, Christoph Räthke and Jesper Richter-Reichhelm. Create or Died did a story on that too. (German only)


Create or Died did a story on that too. (German only)
http://createordie.de/cod/news/webinale-2012-Kickoff---die-holistische-Web-Konferenz-hat-in-Berlin-ihre-Pforten-geoeffnet-063145.html
You can find the slides of Markus talk "Executive Summary - App-Entwicklung für Entscheider" here on slideshare:
http://de.slideshare.net/BokowskyLaymann/executive-summary-appentwicklung-fr-entscheider-webinale-edition
And finally Markus life on tape on the question "What makes an app a good app?"

http://youtu.be/RglX0lSUDgI
Markus Bokowsky speaks at MobileTech Conference in Frankfurt

For the first time the Fall Edition of the MobileTech Conference invites from Sept. 03rd to Sept. 06th to the InterConitental Hotel in Frankfurt. For three days the conference offers to the participants again a wide range of more than 60 sessions, workshops and keynotes. The topics will be iOs and Android Development, mobile websites and mobile UI as well as mobile business trends. The charm of this event is that it unifies mobile developers and experts from different fields of knowledge in combination with delivering for each one specific and practical information.
The speakers to which also belongs Bokowsky + Laymann´s Markus Bokowsky are all experienced mobile experts,some of them belong to Europe´s "mobile elite".
Markus Bokowsky will discuss in his session "Ten Theses on mobile Future" (Tue Sept. 4th, 10.45 am) the most important mobile issues and tries to give an outlook to the near future of mobile development.
On Sept 04th he will also be part of a keynote panel during the Mobile Community Night, among Ossi Urchs (F.F.T. Medienagentur), Achim Himmelreich (Mücke, Sturm & Company), Christoph Kolb (widjet GmbH) and Wolfgang Henseler (SENSORY-MINDS), discussing the question "Why is it so hard to develop good apps?".
Another highlight of MobileTech Con will be the twitter reading. Well known German twitter enthousiatics (@baranek, @PickiHH and @mspro) will present entertaining and funny tweeds.
In parallel to the Conference there will be an exibition taking place on September 4th and 5th where mobile technology suppliers present their products.
The hole conference programm is published here.

http://mobiletechcon.de
And in this video Markus Bokowsky is giving a forecast to his session.
webinale 2012

It's getting warmer outside, so webinale must be just around the corner. Absolutely, next week, web developers, designers and all other kind of internet people will be gathering in Berlin for three days at Webinale Conference.
We're of course also around, Markus will give a talk on aspects of App Development from an enterprise prospective.

Executive Summary - App Development for Business Professionals
by Markus Bokowsky – 05.06.2012 | 09:00 - 09:45 | Room: Salon 7
A tour de force covering all aspects of App Development from a Business Professional point of view. What to keep in mind, what pitfalls to avoid, what opportunities not to miss, and what to do if you mess it all up.
A session with lots of real life examples conducted from a personal point of view and guaranteed without any phrases like "it depends".
If you're living on a budget, there is also something in for you, join the Webinale Open and you get access to selected sessions and all keynote of Tuesday for as less as 49 Euros.

Register now for Webinale Open.
Also not to miss is the legendary Webinale Party on Tuesday night. It takes place at Cafe Moskau again together with the webcuts award ceremony.

You can still vote for your favorite Internet Video.
We heard through the grapevine that it might be a good idea to be on time on Monday and not to miss the opening ceremony. That's all we can say now ;-)
Interview with Markus Bokowsky on Chip Online
German Online IT Magazine Chip Online published in its business section a series of interviews with Markus Bokowsky on the topic of App Development for Enterprises. The Series is called "Your Business on a Smartphone - in 8 steps to a successful corporate App" and it covers in eight articles and video interviews all aspects of App-Development, from Concept and Strategy to Maintenance and Analytics.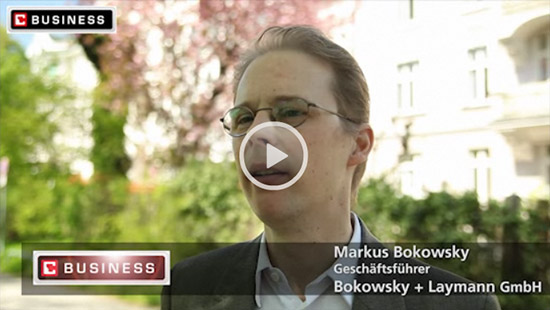 or go direct to the sections:
(all content in German Language only)
Step 1: Strategie und Konzept
Step 2: Plattformen
Step 3: Design
Step 4: Technik und Programmierung
Step 5: Distribution
Step 6: Promotion
Step 7: Erfolgskontrolle
Step 8: Wartung der App
Augmented Reality and Ludwig II. Articles in Mobile Technology Magazine
In the last issue of German mobile paper "Mobile Technology Magazine" two articles on Augmented Reality and the Ludwig II App had been published. We highly recommended you to run to a newsagent nearby and grab a copy. Now we are very happy to announce, that you can read both articles in full length in the Knowledge Base section on our homepage.
MOBILE-TECHNOLOGY, 2/2012
Ich sehe was, was du nicht siehst -
Mobile Augmented Reality auf dem Weg zum Massenphänomen
by Markus Bokowsky

MOBILE-TECHNOLOGY, 2/2012
Auf den Spuren Ludwigs II. - Mobile Nutzungsszenarien für digitale Inhalte
by Dr. Klaus Ceynowa and Markus Bokowsky
Review Mobile Technology Conference 2012 Munich
In the last issue of this newsletter we invited you all to the MobileTech Conference in our hometown Munich, where we'd been present with a booth and also been part of the conference program. If you couldn't do it, make sure not to miss it next year, it was a great conference, with a line-up of excellent speakers. At our booth we presented a showcase of markerless 3D optical pattern recognition, using the Winter Garden of the Ludwig II App. What we heard from the audience, also our handmade royal choco apps had been a huge success. If you missed it, bad luck, all gone.
Some Impressions from the MTC, our booth and Markus Talk (see more on our facebook page).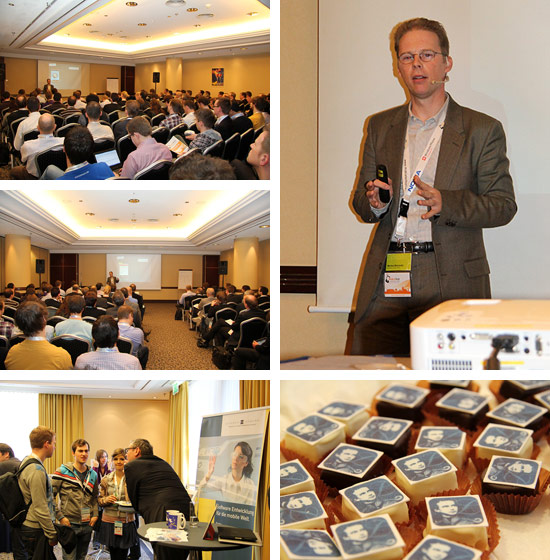 The MTC video bloggers also catched Markus for a quick interview:
Oh wait, another great news from the conference. The mystical 2012 edition of our collector's mug debut at the MTC. This time covered in royal blue with swans and Augmented Reality. So the mug summed up the topics that touched us most in the last 12 months. And we are very happy to announce, that the mug was designed by the internationally well know multimedia artist Tamiko Thiel.
Review re:publica
Following the motto Action! in May re:publica 2012 took place in Berlin. Europes biggest gathering of bloggers and internet people moved from its traditional venue Kalkscheune in Mitte to the much more spacious Station Berlin in Kreuzberg. And yes, it was a good decision to move. Losing a bit its hipster Mitte Flair, but winning so much more space, that it was almost guaranteed, that you had your own chair to sit on.
So beside Club Mate and Fritz Cola this year there had been also enough air to breath and enough space to move for everyone. Quality wise you could see a decline in the speaker list. The big names had been missing, no Jeff Jarvis or Gunter Dueck joined re:publica this year, but due to the pure quantity of sessions this hasn't been a real problem. The biggest celebs this year had been European Commissioner for Digital Agenda Neelie Kroes and @RegSprecher Steffen Seibert. Both talks had been professional and solid, but of course you won't expect much inspiration from politicians.
In the program, the Arab revolutions and its implications on social media and vice versa had been one of the most interesting topics.
Here's a small selection of videos of sessions that we liked most and had been filmed.
Mark Kaigwa: Silicon Savanna – How Technology in Africa is changing the Globe
Mark Kaigwa is a pioneer of the subsahara Internet. He says: "Africa has an Image problem" and "we need new narratives". We think he's right. Watch his talk to find out why.
Fadi Salem, Zeynep Tufekci: Social Media and the Arab Uprisings: Some Answers; More Questions
It's a academic perspective from Dubai and the USA, but it's nevertheless so much closer than we'd been even with Al-Jazeera and the Internet.
Katie Jacobs Stanton: Twitter joining the Conversation
If's nothing you wouldn't probably already know, but it's a good definition of the status quo of Twitter presented by Twitter VP Katie Jacobs Stanton.
Raul Krauthausen, Philip Banse, Debora Weber-Wulff, Frank Westphal, Matthias Bauer: Blogger im Gespräch
Philip Banse talks to four Internet activists we heard about in the news during the last 12 months. His guests are Debora Weber-Wulff from VroniPlag, Matthias Bauer from "Wir sind Einzelfall", Frank Westphal from Rivva and Raul Krauthausen from Wheelmap.org (Talk in German).
Bernhard Pörksen: Der entfesselte Skandal
His central hypothesis goes: A scandal is nothing you could watch from a distance anymore, sooner of later it touches all of us. What does this mean for ourselves, the society in total and the Internet? Prof. Bernhard Pörksen talks about this sensitive topic in an extraordinary elaborated way. It's a pure please to listen to him (Talk in German).
Sascha Lobo: Stand des Internet 2012
Here he is again, the grandmaster of the internet industry. The Community doesn't necessarily love him, but it's a pleasure to listen to him and always fun as well. See what Sascha Lobo thinks has changed in recent years, where we are standing now and what will be coming up next. And hey, at least we now know, Pinterest is 4chan for girls (Talk in German).
Review Conference "aufbruch. museen und web 2.0"
On April 20th professionals working in the field of museums and cultural institutions meet for the second time in the Bavarian capitol Munich to discuss best practices in social media and web 2.0 for their special field of interest. All of a sudden also our App Ludwig II had been part of the program as Dr. Klaus Ceynowa, Deputy Director General of the Bavarian State Library gave a talk called "Information "On the Go": Innovative Nutzungsszenarien für digitale Inhalte – Die Augmented-Reality-App "Ludwig II."
You can watch the talk in full length now on YouTube.
Famous Books App now in German
Beside the overwhelming amount of positive feedback we got for the Famous Books App in the last months there was always one critical point: Why only in English and not in German? Not any longer. Ladies and Gentleman we proudly present "Famous Books - Schätze der Bayerischen Staatsbibliothek". Same thing, different language.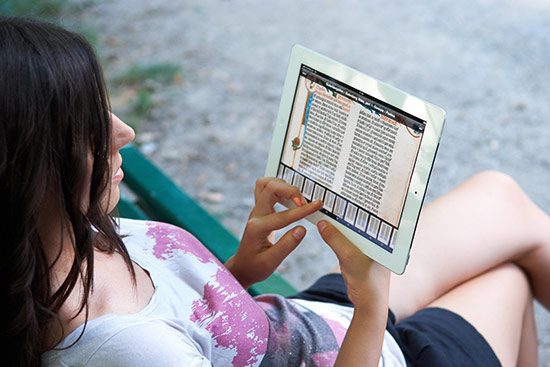 The German version is part of the version 1.6 update witch will hit the App-Store in the next 1-2 weeks. Also part of the update, lots of small bug fixes, iOS 5 improvements and a completely rewritten social media sharing module.

Update Oriental Books
Also Oriental Books App received an update. Beside lots of bug fixes and iOS 5 and performance improvements, there are completely new short descriptions. You should find the Update also about 1-2 weeks from now in the App-Store.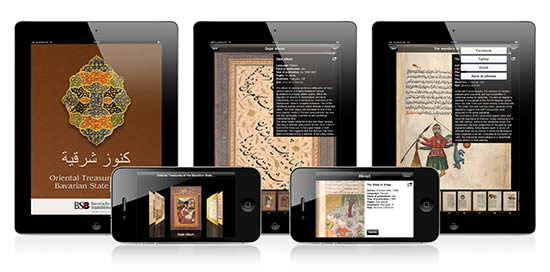 Bokowsky + Laymann at M-Days

We are proud to be part of M-Days, Germanys largest Fair in the mobile business, for the first time this year. On February 1. Markus Bokowsky will present the Ludwig II App on the App-Stage at 4.30pm.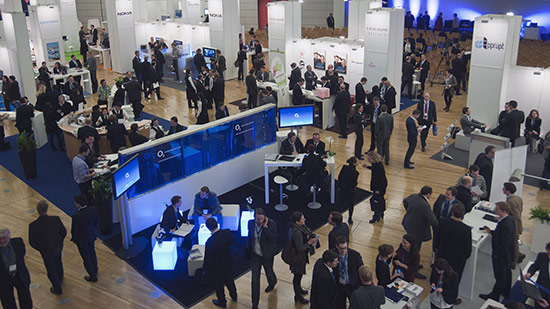 M-Days take place at Hall 1.2, Frankfurt Fairground, 1-2 February 2012. On the first day, there will be also a lot of corresponding events, from MobileMonday to Twittwoch and - of course the Mobile Media Night.
Would be great to see you there.

www.m-days.com
mobile is coming home - 2. MobileTech Conference in Munich

It's still a couple of weeks to go, but to be on the save side, we'd like to scream out "save the date", the MobileTech Conference is coming for the second time into your hometown Munich. From 26-29 March it's MobileTech Time again and we're sure, it will be bigger, better, faster and more. Of course we won't miss it and will be present onsite with a booth and Matthias and Markus are part of the speaker line up. As our AR.Safari was such a big win last year, we'll definitely have some sort of contest again, we're not revealing more right now, but hold your breath.

For the first time, there will be our bokowsky@campus initiative, which enables a number of students free entrance to the conference. More info about that and all other news concerning MobileTech Conference in our next newsletter or in the meantime on our Facebook page.
Before we move on to the next topic, we'd like to mention the enhanced business track of the conference, which is curated by Maks Giordano and Markus Bokowsky. Markus is also again part of the overall Advisory Board. For more information check out the MobileTech Website.

Our sessions at the Conference will be:
Geolocation and Region Monitoring with MapKit and Core Location
by Matthias Proske
Geolocation is much more than Google Maps. Improvements in CoreLocation had been rather low-key in recent iOS Updates. But nevertheless Region Monitoring in iOS 5 gives us fascinating options for Location-Based-Services. This session shows, how MapKit and CoreLocation can be used for accurate and effective geolocation as well as how position updates in the background work.
Executive Summary - App Development for Business Professionals
by Markus Bokowsky
A tour de force covering all aspects of App Development from a Business Professional point of view. What to keep in mind, what pitfalls to avoid, what opportunities not to miss, and what to do if you mess it all up.
A session with lots of real life examples conducted from a personal point of view and guaranteed without any phrases like "it depends".

mobiletechcon.de/2012spring/
Dislocation Sculpture and Perceptive Dislocations
In the last issue of this newsletter we invited you to the new Artist in Residence of the Goethe-Institut in Second Life Tamiko Thiel. Two performances have already taken place, and there is amazing video and photo footage to watch.

In the Performance Dislocation Sculpture Tamiko Thiel and the U|D|K transformed the artwork 7.000 oaks created by the last Artist in Residence 0100101110101101.ORG aka Franco & Eva Mattes into a completely new format, or lets say into a new phase of matter. If you have missed it, which would be a shame by the way, here's the video of the performance of November 25.
On January 26 the second Performance "Perceptive Dislocations" took place. Thiel and the U|D|K had twisted the rules of perception and created spatial and visual dislocations in the space-time fabric of Second Life. Hard to describe but amazing to experience, as the audience became part of the play..

For limited time, the artwork created for the performance can be experienced on Goethe Institut Island in Second Life. Just sit on the sofa at the landing point and it starts off.

More Pictures from the performance can be found on our Flickr page..
Augmented Reality Article in LEAD Digital
At the end of last year, German magazine LEAD Digital dedicated a whole issue to Augmented Reality. An article by Markus Bokowsky on AR and Marketing could be found in this issue. You can read the article now in our Knowledge Base.
Coming up Next: CeBIT 2012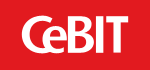 And of course, not to miss, good old CeBIT in lovely Hannover. Having a bit of a rough time recently, CeBIT is still the biggest IT Fair in the world and so still a must go for everyone in the industry. Rumors are going that the Ludwig II App will be on display in Hall 7, but we don't know any details yet. We'll keep you updated on our Facebook page.
CeBIT 2012,
06. - 10. March, Hannover



www.cebit.de
Coming up Next:Mobile World Congress

Mobile World Congress will stay for another couple of years in Barcelona and we are all looking forward to some sunshine in February in Catalonian. A veritable conference program, grown over the last years, is accompanying the traditional mobile Fair. So, lots of reasons to see MWC also in this year.
Mobile World Congress 2012,
27. February - 1. March 2012,
Fira Montjuïc Barcelona

www.mobileworldcongress.com