Ludwig II – Hot from the Press
The media echo produced by the launch of the Ludwig II App was way beyond our expectation and absolutely great. All local newspapers as well as most national papers covered the Launch in the first week, some of them with a full page story. There had been also lots of articles in special interest magazines, as well as in weekly papers. Not to forget the web and the blogosphere. We'd like to say Thank you so much for your coverage and attention.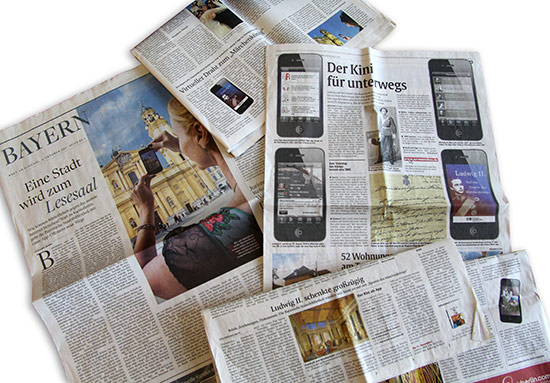 Here's a selection of our most favorite quotes (German only):
Mittelbayerische Zeitung:
"Die App ist ungeheuer vielfältig, originell und trotzdem seriös. Der Autor dieses Beitrages hat sie durchprobiert und fürchtet ob des hohen Unterhaltungswertes um die Zukunft der traditionellen Museums- und Schlossführer."
Süddeutsche Zeitung:
"An den Stationen Ludwigs, in Neuschwanstein oder am Chiemsee etwa, gibt es mit dem Telefon viel zu entdecken, Tonspuren mit eingesprochenen Zeitzeugenberichten etwa oder Videos mit Experteninterviews."
Bayerische Staatszeitung:
"Deshalb also die Ludwig-App als süße Frucht vom Stamme der digitalen Bibliotheksarbeit. Hat man ein Smartphone zur Hand, erhält man von der App für 140 eingespeiste Ludwigs-Orte Textinformationen, Videos, 3D-Animationen, historische Fotos, Hörbilder mit Zeitzeugenzitaten und Kurzinterviews mit Gelehrten. Hier und da tut sich dann auf dem Display sogar Ungeheuerliches in "Augmented Reality"-Simulationen."
AZ:
"Die AZ hat die Kini-App getestet. Fazit: Sogar Museumsmuffeln macht der virtuelle Rundgang Spaß!"
Donaukurier:
"Obwohl das Jubiläumsjahr bereits in die Zielgerade einbiegt, bietet es immer wieder Neues zum Thema Ludwig II. Vieles davon fällt tief in das Loch von Kitsch und Schmarrn; anderes gefällt mit gewitzten, modernen Ideen. Zur zweiten Kategorie gehört die Ludwig-App, die dieser Tage auf den Markt kommt."
You can find all press clippings on our website in the "Media coverage" section as well as almost in real-time on our corporate Twitter as well as our Facebook Page.
If you haven't downloaded the App yet, here's the App Store link and the Promotion Video on YouTube.

Of course we are more than happy, if you embed it into your website or blog. If you'd like to spread the word and promote the App even more, we've prepared some banners, feel free to use it.

insideAR - Augmented Reality next Level

As you already know, the Ludwig II App launched at the insideAR Conference and we had also a small booth there. The Conference, founded by the AR pioneer and technology leader metaio is now Europe's biggest Augmented Reality gathering and has tripled in numbers this year. We showed the 3D pattern recognition we used for the virtual reconstruction of Ludwigs famous wintergarden on top of Munich Residence. Visitors had been able to try it out onsite using a big picture of the building. Our team and the metaio staff had been around to give a hand and answer questions.

Check out our Facebook page for more photos from the insideAR.
For all of you, who missed the event, here's the opening keynote from metaio CTO Peter Meier.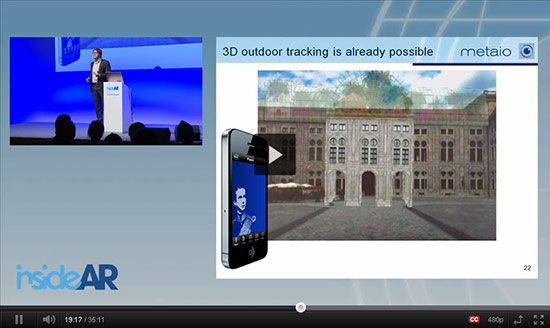 Dr. Klaus Ceynowa, Deputy Director General of the Bavarian State Library, presented the App in his speaking slot in the afternoon on the main stage and talked about the digital strategy of the BSB. See photos from his talk on your Facebook page, the video of the talk has unfortunately not yet been released.

Bericht von der mobileTech Conference in Mainz

Of course we'd been also present at the fall edition of the mobileTech Conference in Mainz. The slides of Matthias' and Markus' Talks are on Slideshare now (German only).
After our AR-Browser Hands On Talk, the MTC Team grabbed Matthias for a quick video Interview. You can see the result here. (German only)
The Mobile Night, happened to develop slightly different as expected. Markus Bokowsky had been asked to participate in the Expert Panel talking about "Welcome to the Web 2.0". So he found himself up on stage talking with Markus Breuer, Achim Himmelreich, Stephanie Renda and Mathias Reinhardt about the future of mobile, what that all means for developer and customers and a lot more. Ossi Urchs hosted the panel. If you really like, you can watch it again, the mad people from the MTC Team had their camera running and recorded the whole thing. (German only)
Augmented Reality, how to article
Part two of our little series of articles about Augmented Reality published by the mobileDeveloper Magazin is available in full length in the knowledge base section of our website now. Matthias Proske explains how to develop AR Channels for the AR-Browsers Junaio, Layar and Wikitude.
A new green for Goethe Island
One of our fantastic customers, the Goethe-Institut recently redefined their Corporate Design. They slightly rearranged all CD elements, changed the Logo, and lightened up the color a bit. Now Goethe-Institut is presenting itself in a very modern and up-to-date way. Of course relaunching the CD is a very time consuming process, almost everything needs to be adjusted. So we are very proud to announce, that the Goethe-Institut in Second Life is the first "Institut" that completely adapted the new CD guidelines. Haven't been there for a while? Why not take the chance and stop by with your Avatar.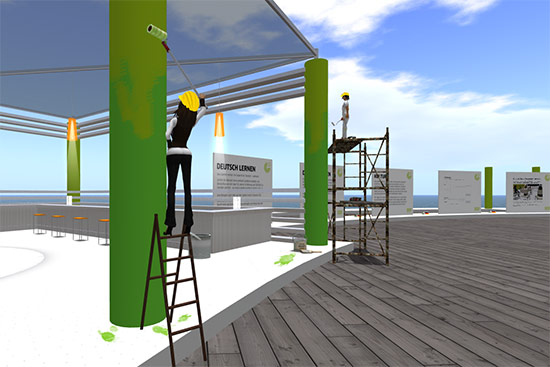 New Artist in Residence: Tamiko Thiel
We are very proud to announce, that the Goethe-Institut in Second Life has a new Artist in Residence. The well-known Media Artist Tamiko Thiel is working in the "Artist in Residence" Skybox from now on.
Tamiko Thiel AKA Ta Loon is developing the dramatic and poetic capabilities of various forms of virtual and augmented reality as a medium for exploring social and cultural issues in site-specific artworks. She has degrees in engineering from Stanford and MIT and a fine arts degree from the Academy of Fine Arts in Munich. She exhibits internationally in venues such as the Istanbul Biennial, the International Center for Photography New York, the Institute of Contemporary Art London and Boston, the ZKM Karlsruhe and the Tokyo Metropolitan Museum of Photography, and at festivals such as Siggraph, ISEA and Ars Electronica.
As a founding member of the augmented reality artist group Manifest.AR she participated in the pathbreaking uninvited augmented reality intervention at MoMA NY in 2010, then curated and led the AR intervention at the Venice Biennial in 2011. Her work has been supported by grants from WIRED Magazine, the Japan Foundation, the Massachusetts Institute of Technology, the Berlin Capital City Cultural Fund (Hauptstadtkulturfonds) and the IBM Innovation Award.
She is currently Visiting Professor of Technologies of Nonlinear Dramaturgies at the
Institute for Time-Based Media, University of the Arts in Berlin.
She starts her residency with the performance "Dislocations" on Friday, 25. November, 6:00 AM SLT; 3:00 PM CET.

http://www.goethe.de/frm/sec/en8476579.htm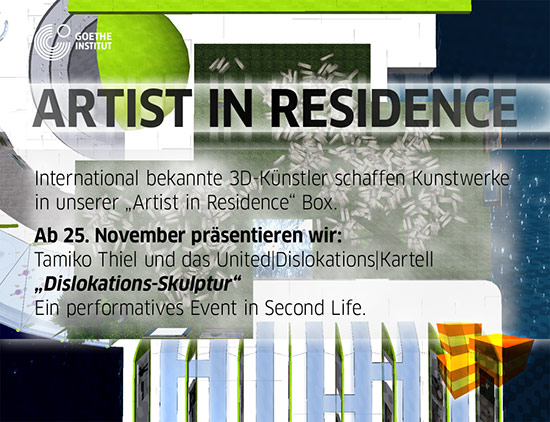 Coming Up next: LeWeb
On December 7-9 LeWeb, Europe's premiere Internet Conference, takes place in Paris. Leading figures of the international scene will gather in Paris to meet and discuss the emerging trends for the next year. This year on the speker list: Eric Schmidt and Marissa Mayer from Google, Brian Chesky from AirBnB, Evernote founder Phil Libin and rumors are saying, even Michael Arrington will make it over the Atlantic.

More information on the LeWeb website
Coming Up next: re:publica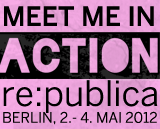 It's still plenty of time till re:publica 12 starts next year in May, but you all know, tickets are sold out in very short time. All early bird tickets had been sold in a day, so go and grab on of the Blogger Tickets left, while stock lasts. We all hope for some more space next year, as the show moves from Mitte to Kreuzberg and moves into Station Berlin.

More information on the re:publica website
New App: Ludwig II – Walking in the Footsteps of a Fairytale King
Finally we got it. The App "Ludwig II – Walking in the Footsteps of a Fairytale King" is now available in the App Store. This location based service application offers a unique range of multimedia information about & around the famous "fairytale king" Ludwig II of Bavaria enhanced with some Augmented Reality Highlights.
The app is a joint service offered by the Bavarian State Library and the Bavarian Administration of State-Owned Palaces, Gardens and Lakes. It had been our great pleasure to be in charge of the production of the app for iOS and Augmented Reality browsers.
To start with, why not have a look at the video embedded above, also done by us and really cool as we think. But right after, don't forget to download the App from the App Store, and we'd be very happy if you could rate it and write a review as that's what really counts in the App Store rankings.

OK, whats in it:
140 locations in Bavaria and Europe related to Ludwig II
On a map you'll find 140 places that had been important in the Life of King Ludwig II. A tap on it reveals further information. In the CameraView you'll get places and distances overlaid on the actual camera view as you are used to from Augmented Reality browsers. In the ListView all places with further information are listed in alphabetical order, or are sorted by distance. So you can learn about Kind Ludwig even when you are not in Bavaria.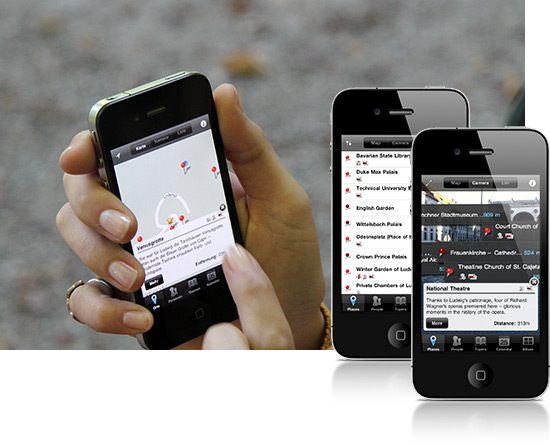 80 most important places in detail
Detailed descriptions of places that were important in the king's life, streamlined for iPhone readers and adapted for multimedia inclusion. The whole content had been specially produced for that App.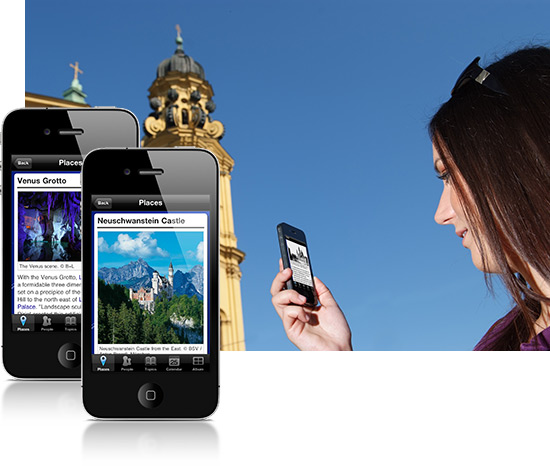 More than 400 brilliant pictures
More than 400 photos make the app also visual opulent. All photos come with captions and most of them are grouped in picture galleries, so looking at them is real fun. Of course the picture galleries work as you expect it, just one swipe and you browse through it forward and backward.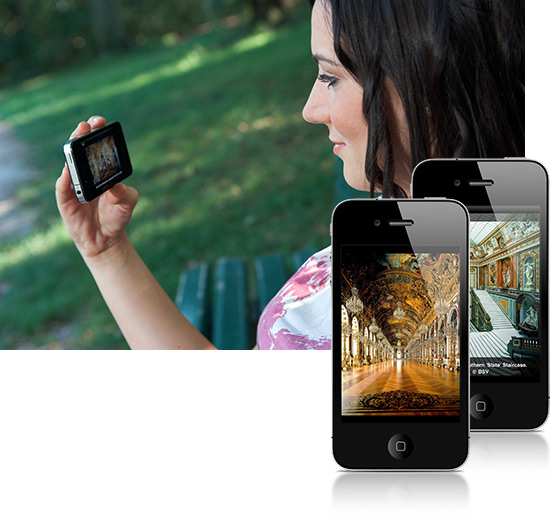 Dive into history with eyewitness audio snippets
Audio quotes of witnesses of the period like Richard Wagner or Otto von Bismarck vividly demonstrate what impression the king made on people who met him in person. Of course, Ludwig II himself has his say too!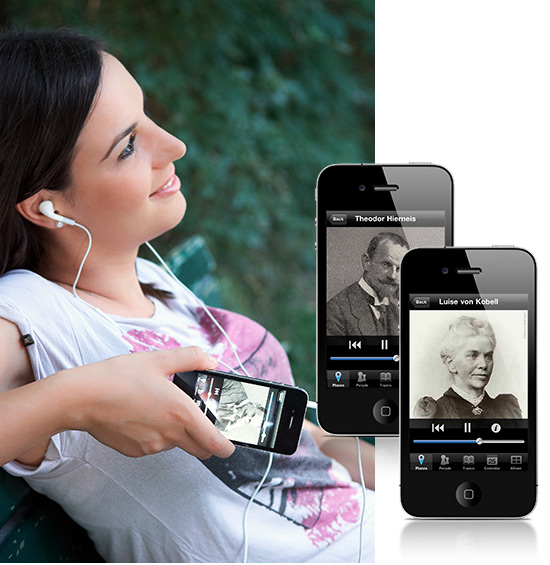 Audio features for special places
The amount of text you'd like to read on site on your iPhone is limited. So we thought, why not also put some audio in it. So major sights got its own audio features, background information on Neuschwanstein Castle, Linderhof Palace, Ludwigs faible for legendary french Kings etc. etc. Perfect to listen to on site, while travelling or queuing for tickets.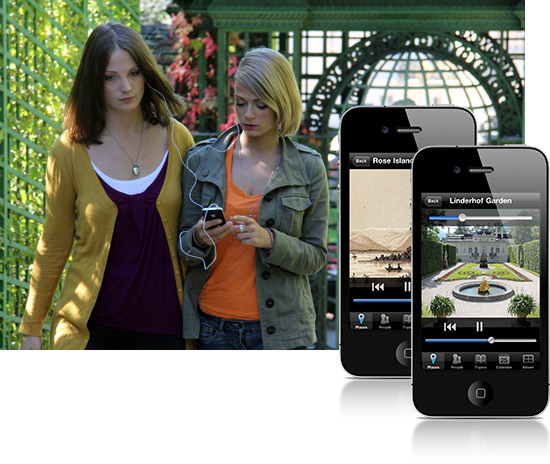 Experts on Tape
To learn more about Ludwig II and Architecture, Politics, Music, Technology and Life and Myth, we asked well known experts for an interview. So, we ended up with 40+ video snippets each about 1:30 in length which are linked context- and content- sensitive. The videos are, as well as the rest of the content part of the app, so no internet connection is needed, perfect for tourists or areas with poor GSM coverage.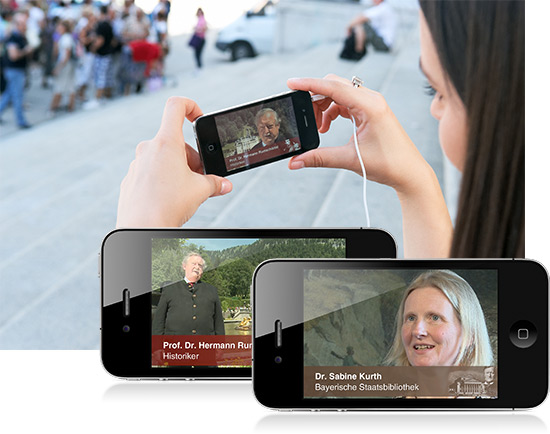 Ludwigs famous Winter Garden as AR Simulation
A real Augmented Reality Highlight is the Winter Garden of Ludwig II. which does not exist anymore. It had been teared down shortly after Ludwig died due to some problems with the included water basin. Now the Winter Garden had been rebuild as AR Simulation. If you enter the Kaiserhof of the Munich Residenz and point your iPhone towards the former place of the Winter Garden, it will be augmented onto it. This is probably the first case of a 3D object pattern recognition using Smartphones in a real-life App. BTW this Feature, as well as all the other Augmented Reality Features is built with Metaio's Unifeye Mobile SDK.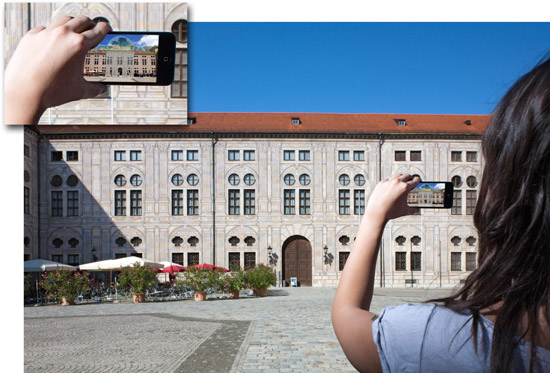 Immerse into it - 360 Degree Panorama Views of Throne Room and Singers Hall
Another Augmented Reality Highlight is the 360 Degree Panorama View of Neuschwanstein's Throne Room and Singers Hall. Even if you are not there, you get a glimpse of the overwhelming decor of these rooms. The extraordinary thing, when using 360 degree Panoramas on smartphones is, that you can make use of the compass and gyroscope and therefore you immerse into it, like in a virtual world. It's a real amazing experience.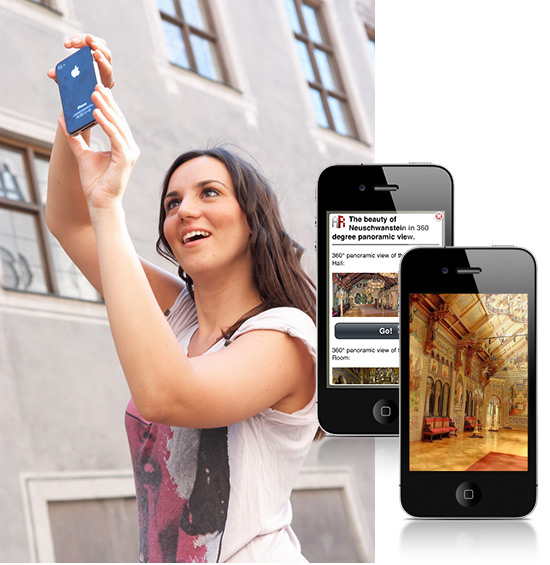 An admission ticket becomes alive – digital miniature models of the royal palaces
Visitors of Linderhof Palace, Herrenchiemsee Palace and Neuschwanstein Castle can use this app for producing digital 3D models out of their admission tickets. When you point your iPhone on the ticket, a 3D simulation model of the palace you're visiting appears on the screen.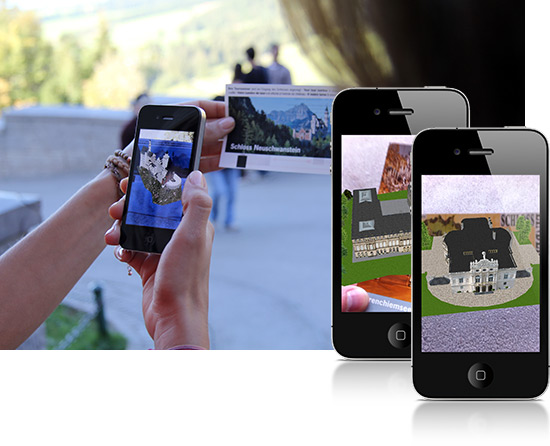 Follow the King and get virtual gifts
The App encourages you to visit as many places related to Ludwigs life as possible. For some extra motivation some places hold some kind of gifts for you, so called virtual goods. Visit for example Hohenschwangau and you can have a look at the kitchen of the Castle. We reward you with an original recipe by the royal chef of King Ludwig. When visiting Herrenchiemsee Palace, you'll get the sound of the famous planetary clock as ringtone for your iPhone. These little gamifikation elements should motivate users to use the app as often as possible, not only once when they downloaded it.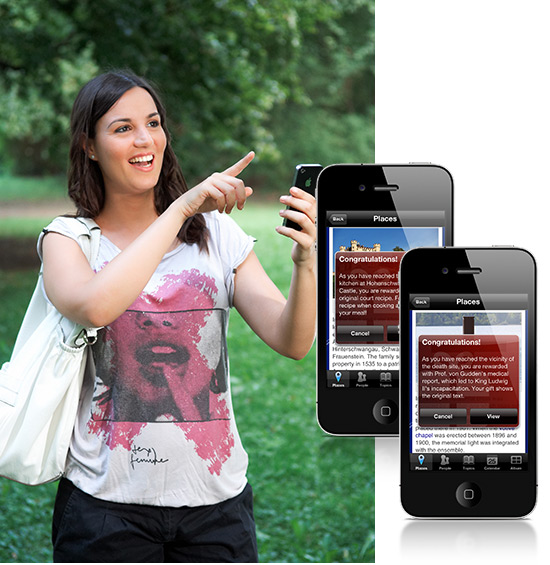 "Your Year with the King" – Historical events as Push Message
Another feature for the real royal fan boy is the ability to get at 148 days Push Messages from the App with historic relevant events that happened more than 100 years ago on that specific date. Read stories about the King traveling with his royal train or his meetings with Empress Sissi from Austria.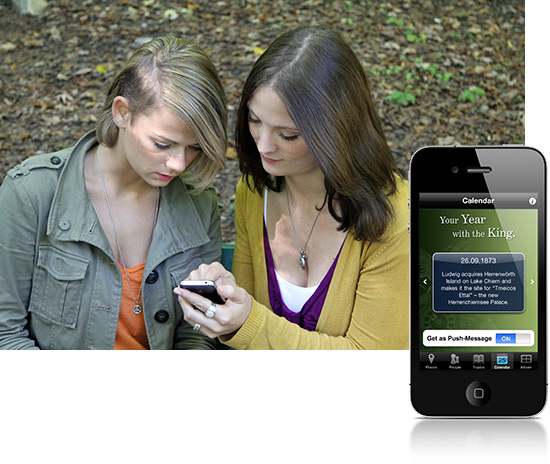 The App is available since September, 26 both in German and English*. All features except the MapView are also available offline, no internet connection needed. So this App is also for tourists the perfect solution to dive into the fascinating world of King Ludwig II.
For the Augmented Reality Browsers Junaio, Layar and Wikitude there is also a special Channel available which covers most of the features and so brings this spectacular content also to other mobile operating systems such as Android, BlackBerry7 and Bada.
*Videos are German only
| | | |
| --- | --- | --- |
| | "Ludwig II – Walking in the Footsteps of a Fairytale King | |
Meet the App


In the next week you have the chance to see a live demo of the Ludwig II app on two different occasions in Munich. The Bavarian State Library participates in the Long night of the museums on Saturday, 15. October. You can visit their real life exhibition about King Ludwig II, but you have also the chance to see the App demoed by experienced presenters. And hey, you already guessed it, this will be us, so stop by and join us we're looking forward to see you there.

Dr. Klaus Ceynowa, Deputy Director General of the Bavarian State Library will talk at the Conference Communication World about mobile Strategies and Augmented Reality. His talks will be Tuesday, 11 October, 1pm and Wednesday 12 October 10.40am, room D 104. Of course the Ludwig II App will play a prominent role in his talks.
That's all for now, have fun with the King and don't forget to rate and review.
MobileTech Conference 2011 Fall Edition Mainz

Germany's leading Conference for mobile Development has turned into a twice a year rhythm now. So, the next issue is already ahead of us, it takes place from 12-14 September in Mainz. Of course we are also onboard, more about that further down. First let us tell you about the highlights of the show from our totally subjective point of view. Markus Bokowsky had been again part of the Advisory Board and it looks like they got a pretty interesting program together.

http://mobiletechcon.de/2011/
The focus this time is a bit more on non-technical talks, so there will be also lots into it for non-Developers. You can find these talks in the tracks Marketing & Innovation, Business Stories and Design & Experience.
Our Picks
Please note, most of the talks will be in German.
Keynote:
Die Evolution vom stationären zum Mobile Web
Dietmar Klotz - Qype GmbH
13.09.2011 | 9:15 - 10:00 AM
Sessions:
Mobile Angebote des ZDF
Holger Meier - ZDF
13.09.2011 | 11:45 - 12:45 AM
Mobile Apps: Homogene Erweiterung des Produktportfolios
Dirk Muthig - Lufthansa Systems AG
13.09.2011 | 3:00 - 4:00 PM
Geräte, Plattformen, Versionen - neue Herausforderungen im mobilen Markt
Jan Webering - YOC AG
Roland Gülle - Sevenval GmbH
13.09.2011 | 3:00 - 4:00 PM
"Mobilisierung von Immobilien": die neue API-Strategie von Immobilien
Lorenz Hahn - Immobilien Scout GmbH
Rob Bors - ImmobilienScout24
13.09.2011 | 4:30 - 5:30 PM
Gamification und mobile Endgeräte - eine Traumhochzeit
Markus Breuer - The Otherland Group
13.09.2011 | 4:30 - 5:30 PM
Near Field Communication – die unterschätzte Technologie
Dr. Marcus Gemeinder - DB Mobility Logistics AG
14.09.2011 | 4:00 - 5:00 PM
Tales from the Trenches - Warum Mobile-Projekte scheitern
Matthew Langham - Indiginox
14.09.2011 | 5:15 - 6:15 PM

MobileTech Open and Mobile Night
There will be also again an Open Track, which you can attend free of charge. Please find the program for that on the MTC Website. We're also looking forward to the evening sessions, the MTC Mobile Night.

http://mobiletechcon.de/2011/mtcopen/
7:45 PM
Location Based Services – Mobile Lead to Point of Sale
Achim Himmelreich - Mücke, Sturm & Company
8:30 PM
Mobile – The Place to be. Aktuelle Marktzahlen der Mobile Branche
Stephanie Renda - BVDM
9:00 PM
Expertengespräch: Willkommen im Mobile 2.0
participants TBA
Bokowsky + Laymann at the MobileTech Conference
Of course we are also present in Mainz, check out our three talks.

Social-Media-Integration for iOS-Applications
Matthias Proske - Bokowsky + Laymann GmbH
13.09.2011 | 5:45 - 6:45 PM

Development for Augmented-Reality-Browser
Markus Bokowsky - Bokowsky + Laymann GmbH
Matthias Proske - Bokowsky + Laymann GmbH
14.09.2011 | 11:30 - 12:30 AM
AND - ONE MORE THING
Ludwig II. augmented, how the Fairytale King hit the iPhone
Dr. Klaus Ceynowa - Bayerische Staatsbibliothek
Markus Bokowsky - Bokowsky + Laymann GmbH
13.09.2011 | 10:15 - 11:15 AM
This is the first chance to get a first-hand look at our big project of this year. The "legendary" mysterious and long awaited iPhone App "Ludwig II - Follow the Tracks of a Fairytale King". This talk is a pre-launch event, you can see the app before anybody else can, it will premiere in the App-Store on September 26. Of course we'll also talk about the Strategy behind it and some lessons learned during the development. We'd be very happy to see you in the talk.
Ludwig II - Follow the Tracks of a Fairytale King. The official Press Conference
On September 26, will be the official launch of the App. There will be a press conference at the Bavarian State Library in the morning and an event in the evening where also the opening of the Exhibition "Spuren des Märchenkönigs" will be celebrated. This is an invitation only event. That's all we are allowed to say for now, check out the App-Store on September 26. or read the next issue of this newsletter, which will be out also on September 26.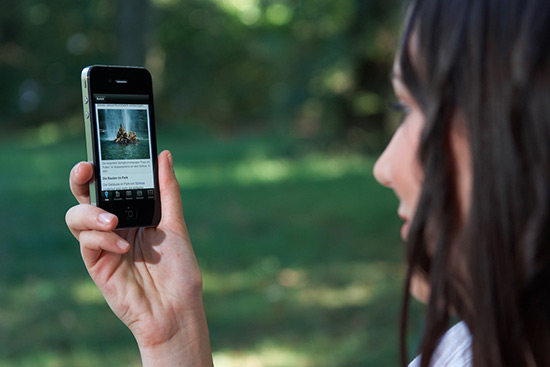 insideAR 2011 - Augmented Reality Conference

Also on September 26, insideAR, the Augemented Reality Conference by metaio is taking place in munich. Metaio is the leading technology driver in the AR space at the moment. The Mobile Unifeye SDK which we used to develop the Ludwig II App is a product of metaio. Although it is an company held event, insideAR developed over the last years to the largest Conference in the Augmented Reality space in Europe or maybe even worldwide. It goes over two days this year, 26-27 September. If you'd like to join, there are still tickets left for the Sept. 26.
Ludwig II. at the insideAR
There will be a presentation of the Ludwig II. App at the insideAR Conference at 5pm on Sept. 26 by Dr. Klaus Ceynowa (Bavarian State Library) und Markus Bokowsky. The App will be also part of metaio's "Augmented City" showcase on both days. A presenter will be there to demo the application and answer your questions.
We will be also present at the partner area of the show, come visit our booth, we'll show you our latest AR related projects there.
All talks and presentation at insideAR will be in English
Dear Journalists,
I know there are some of you on our mailing list. If you want to attend one of the events mentioned above or arrange an interview with Dr. Ceynowa (or of course also with one of us) onsite, please get in contact with the following persons. As the App is available also in English this might be interesting for you.
MobileTech Conference
Arno Laxy
mobiletechcon@laxy.de
Pressekonferenz Bayerische Staatsbibliothek
Peter Schnitzlein
peter.schnitzlein@bsb-muenchen.de
insideAR
Jan Schlink
jan.schlink@metaio.com
Would be great, if you could CC presse@bokowsky.de.
B+L at the newsstand: Augmented Reality - The new dimension in mobile marketing
Markus Bokowsky and Matthias Proske wrote a series of two articles about Augmented Reality for the new magazin mobileDEVELOPER. It is the successor of the magazines MacDeveloper and Mobile Developer Android and will be a monthly publication. The first part had been in issue 8/2011, part 2 will be in 10/2011 at the newsstand later this week.
Review Webinale 2011
In the last issue of this newsletter we mentioned, that it might be a good idea to attend the webinale 2011 in Berlin. Now, webinale is already history, and also the summer comes to an end. We think it was a nice event for the web community and hope to see you there next year. If you couldn't attend the slides of Markus Bokowskys talk are now available on slideshare.
Augmented Reality: Die nächste Dimension im Mobile Marketing
by Markus Bokowsky
There had been a broad coverage of the webinale by the German radio station Radio Fritz in the program "Trackback". You can listen Trackback Vol. 232 webinale edition with an interview with Markus Bokowsky ( 8:58 to 14:35) here:

http://trackback.fritz.de/2011/06/04/trb-232-webinale-augmented-reality-webdesigntrends-netz-2021-dreihundertfunf/
New App:
Oriental Treasures of the Bavarian State Library

Following the big success of the App "Famous Books", the Bavarian State Library decided to launch another iOS App focusing on Oriental and Asian manuscripts.
As one of the world's leading libraries the Bavarian State Library has compiled a substantial collection of 17,000 Oriental and Asian manuscripts since its foundation in 1558, 4200 of which originate from the Islamic world. The App "Oriental Treasures of the Bavarian State Library" presents an exquisite selection of these holdings:
20 precious digitized manuscripts from the Islamic world, representing treasures whose originals are put on display very rarely. The brilliant and complete digital copies of these exhibits – formatted for presentation on iPad, iPhone and iPod – provide a fascinating insight into the oriental treasures held by the Bavarian State Library.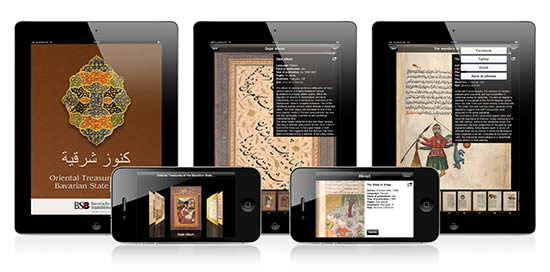 The 20 manuscripts of this App can be browsed from the first to the last page. Among the exhibits are some extremely precious Koran manuscripts. Furthermore, there are some out-standing examples of oriental arts of the book that are presented as uniquely illuminated digital color copies.
The App runs on all iOS 4 devices, iPads, iPhones and iPod touch.

Update: Famous Books

The App Famous Books will get its first major update next week. This includes bugfixes as well as a set of new features. The most important ones are.
Massive performance improvement
With iOS 4.1 the performance suffered dramatically when sliding pages back and forth. The memory mechanism has been completely re-implemented, so we are back on performance level, the app showed under iOS 3. We think it's even faster than that.
Caching System
The no.1 must have feature we learned from the feedback of users (BTW: many thanks for the overwhelmingly positive comments we got via e-mail and in the App-Store) is the ability to cache pages, so the App does not need to load pages again; you've already loaded in the past.
And here it is our all new caching system. All pages the App has ever loaded will be stored in the cache. This means, turning pages will be much faster in books you looked at before and it will be also possible to read them offline. You can set the size of the cache yourself in the new settings menu.
Bandwidth auto detection
We provide from now on also a low quality and a high quality version of every page. What you'll get depends on your internet connection. When you're on GSM or 3G we give you by default the lowres version, so it loads much faster, when you're on Wi-Fi you'll get highres. You can change this setting in the settings menu to force lowres or highres.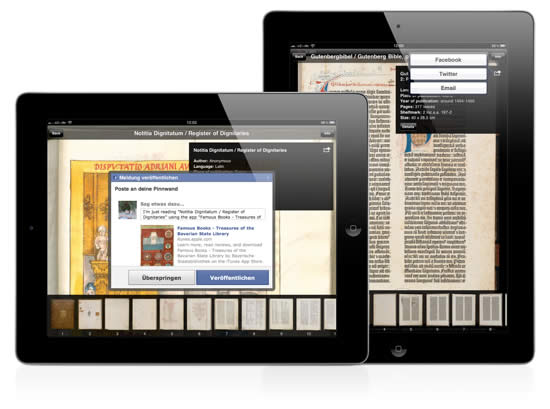 Social Media Connection
Do you like the App? Why not share it with your friends. We have built in connectors to Twitter and Facebook, so you can tell others what you're currently reading or what you think about the App. If you have the official Twitter App installed you don't even have to type in your credentials, we just launch the Twitter App than, very easy and convenient.
Book sizes added
Content wise the size of the books in centimeters has been added.
Lots of bugfixes
Of course lots of bugfixes as well, if you discover some more, please let us know
BTW of course we do also support multitasking as well now. And there is also something in for iPhone4 users, all graphics are optimized for the Retina Display of the iPhone4 now
The update will hit the App-Store next week, don't miss it.

Webinale 2011

Days are getting longer and temperatures are rising to a comfy level, so it's again that part of the year, Webinale is about to hit Berlin very soon. This year our very own Markus Bokowsky had been part of the Advisory Board, so expect very inspiring talks in the field of (Web)- Business, -Design and -Technology.
It will be the biggest webinale ever, that's already for sure, and it is again full of special days. The Advisory board achieved to get leading figures of the industry to curate this days and will be there to moderate them as well.
This will be in detail:
Maks Giordano for the Multi Device Day
Prof. Wolfgang Henseler for the User Experience Day
Frank Puscher for the Marketing Innovation Day
André Morys for the Conversion Day
Martin Szugat for the Social Media Day
and Jens Grochtdreis for the Webstandards Day
We're looking forward to meet these guys and see what's state of the art in their fields.
The program is packet with interesting talks, so grab the conference planer and make your own selection.
Here are just some handpicked highlights we're especially looking forward to:
Keynote: Der Virale Faktor
Martin Oetting
06/01/2011 | 1:30 - 2:00 PM
One of the real Web 2.0 Rockstars will give us an update, on what's up and what's next.
Keynote: Datenschutz Quo Vadis
Peter Schaar
05/30/2011 | 9:30 - 10:00 AM
Keynote: Warum freie Daten wichtiger sind als fliegende Autos
Julia Schramm
05/31/2011 | 9:00 - 9:30 AM
This two keynotes will tell us two opposite sides of the same story. It's all about who owns our data, and what should we do with them on the web. I guess the outcome will be very different and controversial.
Sessions:
Mobile Usability - Lessons Learned
Jan Mühlig relevantive AG
05/30/2011 | 11:45 - 12:45 AM
Only R2D2 is allowed to end a Relationship digitally
Julia Leihener Creation Center, Telekom Laboratories
05/30/2011 | 3:00 - 4:00 PM
Mobile Advertising Trends
Harald Neidhardt Smaato
05/30/2011 | 4:30 - 5:00 PM
Facettensuche im E-Commerce
Torsten Bartel usability.de
05/30/2011 | 5:45 - 6:15 PM
Couponing – eine Modellbetrachtung
Henrik Helmer DailyDeal GmbH
05/31/2011 | 9:45 - 10:45 AM
User Generated Products: Konsumenten entwickeln Produkte
Catharina van Delden innosabi GmbH
05/31/2011 | 11:15 - 12:15 AM
Webdesigntrends 2011
Vitaly Friedman Smashing Magazine
05/31/2011 | 2:15 - 3:15 PM
User Experience Design für Tablet optimierte Websites
Christian Kuhn NUISOL
05/31/2011 | 3:45 - 4:45 PM
Augmented Reality als Business-Boost bei E- und M-Commerce
Thomas Balduff Total Immersion
06/01/2011 | 9:45 - 10:45 AM
Webfonts: Das Web wird schöner
Dan Reynolds Linotype GmbH
06/01/2011 | 2:15 - 3:15 PM
Wie viel Gesicht brauchen Internetfirmen?
Tilman Eberle Doodle
06/01/2011 | 3:45 - 4:45 PM
Wer Gewinnspiele braucht, hat keine Botschaften - Social Media und so!
Christoph Bornschein Torben, Lucie und die gelbe Gefahr GmbH
06/01/2011 | 3:45 - 4:45 PM
Alltag eines Community Managers: von Wahnsinn, Anwälten und Lachkrämpfen
Tom Kedor MOTOR-TALK.de
06/01/2011 | 5:00 - 6:00 PM
HTML5, CSS3 und JavaScript für alle - ja, auch du!
Christian Heilmann Mozilla
06/01/2011 | 5:00 - 6:00 PM
And we are also there with a session, Markus Bokowsky will talk about Augmented Reality
Augmented Reality - Die nächste Dimension im Mobile Marketing


Markus Bokowsky Bokowsky + Laymann GmbH
05/31/2011 | 3:45 - 4:45 PM

Juniper Research forecasts the market for Augmented Reality Apps at 732 Million US$ in 2014, Gartner puts AR on their Top 10 List for "Disruptive Technologies for 2008-2012". This talk gives you a round up on the status quo in Augmented Reality, shows current and future use cases and outlines available tools and frameworks for the mobile sector.
Webinale Open:
For our Readers from Berlin, there is the chance to see selected sessions of the Webinale for free as part of the Webinale Open program. All you need to do is to register and be there on time.

We will have an Ad in this year's conference agenda, of course again with a little extra. Scan the Ad with junaio using the channel Webinale11 and the ad will come to live. For all of you that can not make it to Webinale this year, here's the Ad to try yourself, but don't be disappointed, you'll probably already know the video, that's been hidden inside ;-)
Review Mobile Tech Conference 2011 Munich
The last conference we'd been as speakers and as a sponsor had been MobileTechCon 2011 in our hometown Munich. We'd been there with three talks, which can be all found now on Slideshare.
Hybride Apps für iOS
by Matthias Proske

Ressourcenverwaltung, Preloading und Caching in Objective-C
by Matthias Proske

Augmented Reality: Die nächste Dimension im Mobile Marketing
by Markus Bokowsky
A big success and much fun tor the conference attendees had been our Augmented Reality Contest AR.Safari. You had to find the Big 5 in the conference area and bring them to live using the AR Browser Junaio. Check out this video to see how it works.
Of course there was also a sexy price involved. You could win a AR.Drone by Parrot, one of the fanciest boys toys at the moment. See the lucky winner in a short video clip.
Also on the MobileTech, CHIP Business.tv made a 4:50 min Interview with Markus Bokowsky about Augmented Reality and what this all means to us. Watch the Video here: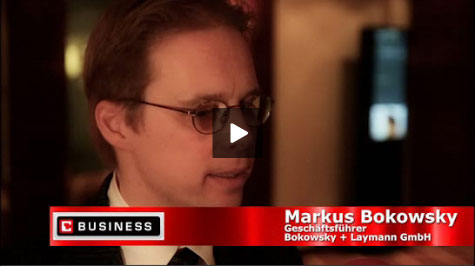 Review: re:publica
It has been a busy year for all of us at Bokowsky + Laymann so far. We'd been to many conferences, bar camps etc. in the last weeks to keep us up to date with all the exiting stuff going on on the Internet to provide first-hand knowledge to our customers. Amongst them had been Internet World in Munich and re:publica in Berlin.
The friendly people at re:publica videotaped some sessions and share them with you. Here's a handpicked selection of what we liked most at this year's re:publica
Spiel das Leben - Sebastian Deterding
A perfect introduction to the Megatrend Gamification. Inspiring talk, perfect slides, fun to watch.
Das Internet als Gesellschaftsbetriebssystem - Gunter Dueck
He was the star of the show this year. Common sense amongst re:publica attendees, most inspiring talk this year.
Jüngste Erkenntnisse der Trollforschung - Sascha Lobo
You don't have to like him, but his talks are always entertaining.
Leaking Transparancy - Whistleblowing und Journalismus
A round table discussion with Daniel Domscheit-Berg, Horst Pöttker, Lutz Hachmeister, Peter Schaar and Jakob Augstein
and of course our yearly highlight, Die Twitterlesung, with @HappySchnitzel @mspro @bjoerngrau @baranek @pickihh @marthadear and @bosch
lean back, relax, have fun!
Other moves and grooves: The Blue Year
In memorial of the 125th anniversary of the death of King Ludwig II. Bavaria is celebrating 2011 the so called Blue Year.
Blue was the favorite color of the Bavarian fairy tale King who gave us famous castles such as Neuschwanstein, Linderhof or Herrenchiemsee, and he was also the most important sponsor of composer Richard Wagner and a dedicated lover of arts and modern technique of its time.
Why are we mentioning a non-webby historic event like that here in the Newsletter? Well, we are currently working on an exciting project which is dedicated to the life and memory of King Ludwig II. We can't tell you more at the moment, but watch out, more news coming up in the next issue of the Newsletter.
In the meantime, we recommend to visit Bavaria and take the opportunity to attend one of the following events and exhibitions of the Blue Year:
Bavarian State Exhibition 2011 - Twilight of the Gods. The life and time of King Ludwig II
Royal Drama in Bavaria. How Ludwig became king, was forced to wage war, was compelled to obey the dictates of a German emperor, reigned as a fairy tale king during the industrial age, and ultimately became a myth. The Bavarian State Exhibition 2011 takes place at Herrenchiemsee, New Palace, from May 14th to October 16th 2011.
For more information on all the other events have a look at:
http://www.guide-to-bavaria.com/en/
Bavaria-Ludwig-II-125-Deathday.html
iTunes Rewind 2010: iPad Apps
One of the leftovers of 2010 we can't hold letting you know is the appearance of our iOS App Famous Books in the Books section of Apples iTunes Rewind 2010. This marks the highlight of a year full of very positive feedback to our work in Apps. There will be an update of the Famous Books App in the near future with new features, watch our social media channels for up-to-date news on that.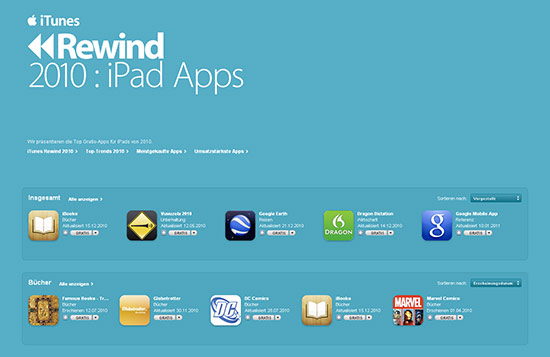 MobileTech Conference 2011

Due to the tremendous success of its debut last year, there will be a 2011 edition of the MobileTech Conference very soon. And yes, the rumors are true, this time it is in our hometown Munich. So of course the whole team of Bokowsky + Laymann will be there, meet us at the conference, 28 - 30 March, Westin Grand Hotel Munich. Markus again had been busy working in the Advisory Board putting together a lineup of high-class speakers in iOS, Android and mobile Web Development. And even when you are not a developer, there is something in it for you; we'll have for the first time a dedicated business track, featuring the non-technical aspects of the mobile world.
You can here us speak at the following times:
iAd - Apples next Game Changer?
by Markus Bokowsky - 29.03.2011 11.45am
With iOS 4 this summer Apples Online Advertising Network iAd has hit over 85 Million iPhones and about 10 Million iPads. What does it bring to promote my App? Is it feature rich enough to achieve also more ambitious Advertising goals? What's possible using HTML5, H.264, JavaScript, Objective-C? What does the new contender mean for all the over players in the relatively young mobile advertising market? This and hopefully many more questions will be answered by the Talk of Markus Bokowsky, so you can utilize the full potential of iAd in the future for your App or Business.
http://mobiletechcon.de/2011spring/sessions/#session-17273
Resource Management and Caching with iOS
by Matthias Proske - 29.03.2011 2.45pm
Nowadays Developers for the iOS platform have to deal with more than one generation of devices when developing and optimizing an App, for sure, there is more to come. This requires a careful usage of resources; you have to find the balance between performance and allocation of resources to make them run also on older devices. This talk gives an overview on the tools OSX provides for resource management and outlines common pitfalls and possible workarounds when developing for iPhones, iPads and iPods of various generations.
http://mobiletechcon.de/2011spring/sessions/#session-17273
Hybride Apps
by Matthias Proske - 29.03.2011 5:30pm
Since the launch of the iPad last year, developing Apps designed especially for this device is a big issue for every iOS developer. Most of the times, you can't just convert usability and architectural concepts that work fine on the iPhone to the iPad. This talk shows what's different when developing for the iPad, explains, how hybrid Apps work and explain in what situations two different Apps might be the better choice.
http://mobiletechcon.de/2011spring/sessions/#session-17273

We'd love to see you at our talks, or just stop by our booth in the lobby and have a chat.
If you can't get a ticket anymore, or you just don't have the time to be there for the regular conference, you can join on Monday or Tuesday evening, there will be an interesting open program for free. Check the official MobileTech Website for details.

http://mobiletechcon.de/2011spring/
App Store Review Article in Mobile Technology Magazine
Ever wondered, why some Apps get refused in Apples App Store and some go straight through without any problems? Read Matthias' Article in the current issue of Mobile Technology Magazine, out next week.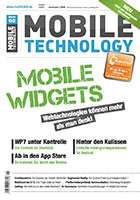 Mobile Technology, 1.2011
App Store review guidelines
Was haben eine frisch entwickelte iOS App und ein 11 Jahre altes Auto gemeinsam? Mehr als man denkt, denn beide haben eine Prüfung vor sich, der die Eigentümer meist mit äußerst gemischten Gefühlen entgegen sehen.
Read the full article here (German).
Augmented Reality is taking off
One of our primary fields of operation in mobile currently is Augmented Reality. These are all rather big projects, so we can't really say much about it yet, but expect exiting news later this year. In the meanwhile Augmented Reality is really on the way to become a established technology in our daily life. German Marketing Paper w&v published a two page article on Augmented Reality including some quotes from pioneers of the scene, incl. our very own Markus Bokowsky. At this years DLD the AR Panel had been one of the most interesting ones and last but not least at the Mobile World Congress in Barcelona AR is all over the place.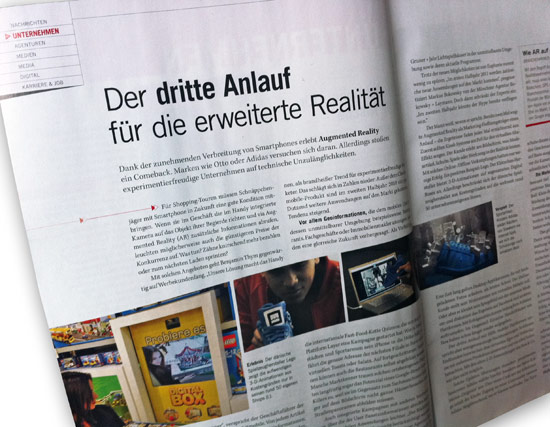 When you're interested in AR and want to know, what all the buzz is about, why not have a look at Markus Bokowsky's talk "Augmented Reality - Reality Check. Why some concepts work and others don't" from last year's ARWorld Conference now on Slideshare and in the knowledge base section on our website.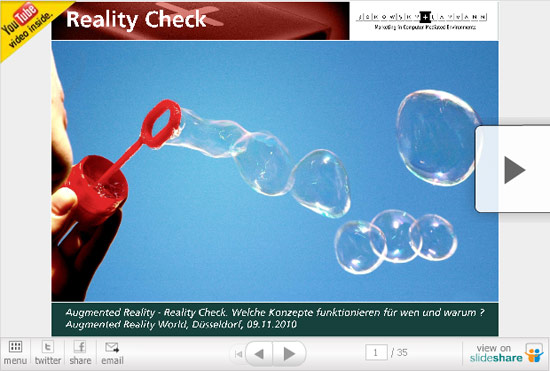 Serious Games for language learning in Virtual Worlds
The Second Life presence of the Goethe-Institut recently got some new exciting features. You can now - alone, or together with others - test your German language skills and practice using a couple of new serious language learning games on the Goethe-Insititut SIM in Second Life.

Other moves and Grooves: Echo Motorgeräte launches Dealer Extranet on Plusparts 4
Metzingen based German Manufacturer and Importer of finest Garden Machinery Echo Motorgeräte recently launched a Spare parts and Machinery Shop based on our E-Commerce Framework Plusparts 4. Echo products are primarily sold via specialist dealers, so pre- and aftersales service is a key factor for success in this competitive market. Therefore, Echo decided - after a long and intense screening of the market - for Plusparts, the innovation leader in Spare part systems.
Thomas Beck, Echo CEO says: "We'd been looking for a long-term partnership, Bokowsky + Laymann convinced us as a reliable and innovative partner and Plusparts seems to us as the most future ready product currently on the market".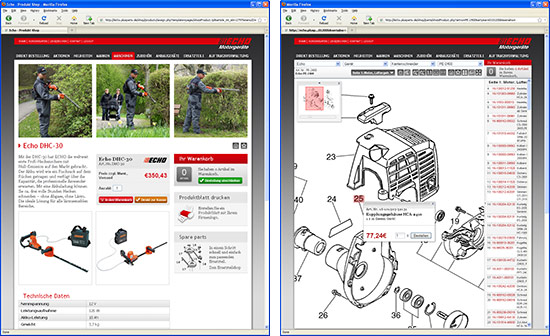 Echo dealers are now able to easily browse through hundreds of hotspotted exploded view diagrams, flip through manuals and guidelines or order whole goods in the Product shop. All managed by one backend and of course complete HTML5 based, so no plugins are required, it runs also on mobile devices, tablets etc.
Upcoming event: CeBIT 2011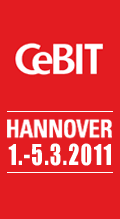 As early as never before, CeBIT this year takes place from 1-5 March. A completely restructured fair is waiting for us, now divided into the areas "pro" "lab" "life" and "gov", let's see whether this will make a difference to previous years. For mobile enthusiasts the Friday will be the day, with a special event "The AppZone".
The Motto of the CeBIT Global Conferences this year is: The power of creativity and innovation! You can again join the Conference free of charge, the list of well-known industry speakers include Parker Harris of Salesforce (Wednesday) Gary Kovacs from Mozilla and John von Tetzchner from Opera (Thursday) as well as Jeremy Stoppleman of Yelp and Peter Sunde Kolmisoppi of Flattr (Friday).

http://www.cebit.de/en